THE BEST WAY TO WORK IN THE RIGHT PLACE
Choose us and forget any management fees
W.Share Coworking Center
The first time in Porto Cervo- the service of smart office- this is innovative solution without extra expences. This is the best business card for Your Company to work temporarily in Porto Cervo.
It is very important support to coordinate Your daily work.
---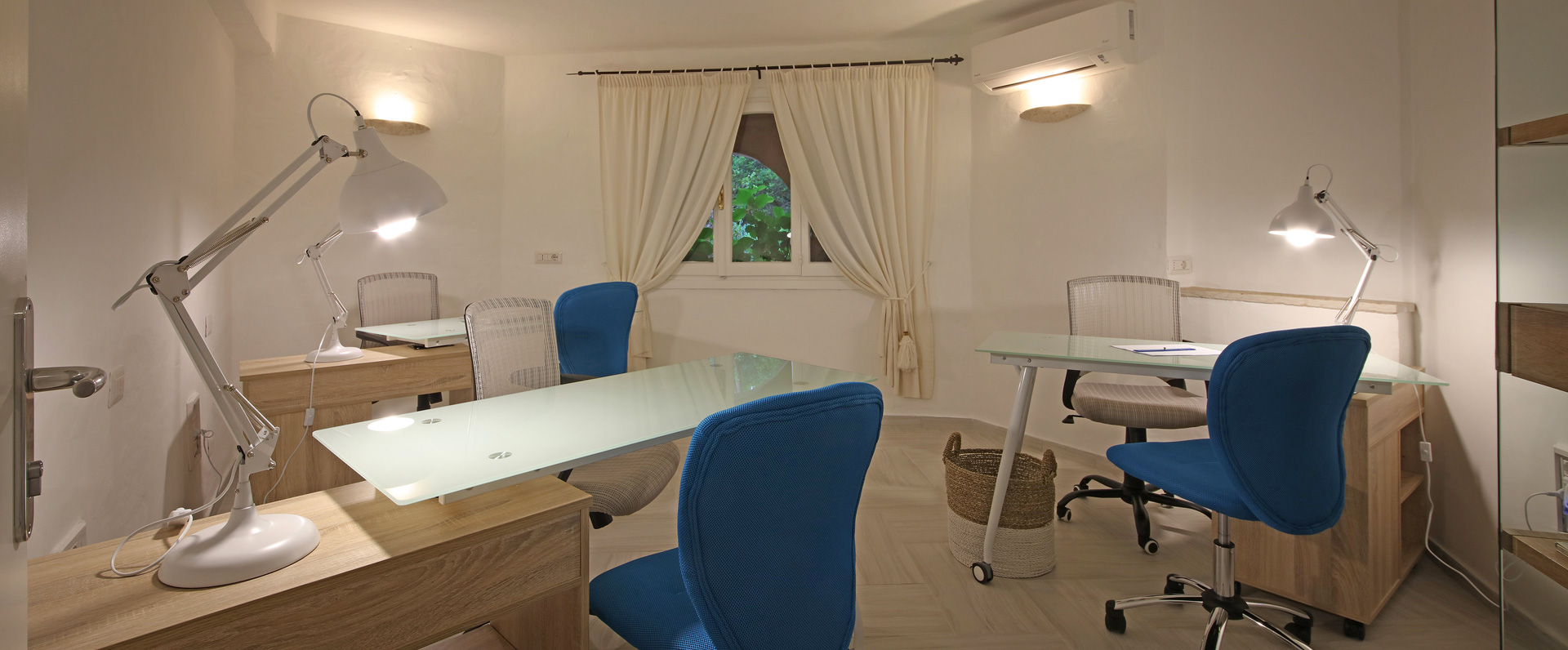 Services offered
OFFICE SHARINGYou can pay for Your office only when You need it, Open 24H, with Wi-Fi, reception, coffee area, receptionist's service of front desk
COWORKING SPACEThere are private or sharing points for working in our office, private Wi-Fi for every desk, print, scan and fax service.
DAY EVENTSOur Hall accommodates up to 20 persons, it is perfect place to organize professional training courses or presentations or also to organize image events. This is the perfect place to valorise Your appointments.
WHAT YOU SAVE - Searching of property
- Furnishings, equipment, installations
- Connection utilities
- Mediation commissions
- Office's adaption works
- Staff research
- Condominium expences
- Plant maintenance
- Waiste disposal fee
- Insurance
- Fulfillment of laws
- Reception
- Cleaning service
- Repair and replacement
Offers

Desk
Dedicated for You and Your staff
Features
Private Wi-Fi
Printer, Scanner, Fax
Area Lunch
---
€. 320,00 +Iva
/ week

Private office with 3 desks
Coworking but with the door
Features
Private Wi-Fi
Printer, Scanner, Fax
Area Lunch
Free internal showcase
Video presentations in our screens
---
€. 3.460,00 +Iva
/ 4 weeks

The Hall
Open space
Features
Private Wi-Fi
Printer, Scanner, Fax
Area Lunch
Video presentations in our screens
---
€. 320,00 +Iva
/ per day, until 20/7
Summer 2018
Upcoming events
Some of Our Fantastic clients